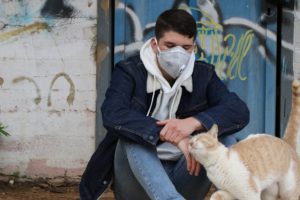 The Separated Child Foundation is very aware of the trust that our funders, supporters and volunteers place in us to provide support to separated children when they arrive alone, vulnerable and often traumatised in the UK and we can assure you that we are doing everything we can to minimise the disruption to the services we offer.
Initial indications are that Separated children are still arriving in the UK but the numbers have reduced somewhat in March. However, it is early days and we will continue to monitor. The refugee agencies, including ourselves, are continuing to work together to minimise the impact of the lockdown keeping young people safe, supported and welcomed.
A small team of very dedicated 'separated child' volunteers worked very hard before the lockdown to prepare extra stock of arrival and sleep packs to see us through this period. We have at least two month's stock based on normal demand, however, demand may be lower which will extend this period. We have arrangements in place to distribute these when requested with the support of our fabulous volunteers using strict infection controls.
We have had to change the way we deliver our weekly Club Class which we run in partnership with the Refugee Council. Club Class is a weekly educational, social and cultural programme for up to 30 separated young people aged 14-18. We have successfully trialled running the session remotely and we intend to continue to offer this weekly. The number who attended was predictably lower than at the face to face sessions but we hope this will rise as word gets about. We may need to address the issue of lack of equipment and Wi-Fi access for some participants in due course.
We will continue to do all that we can to minimise disruption to our services to separated children and would like to thank all our funders, supporters and volunteers for your support and understanding during this period
Richard Hammond
Chief Executive Officer, The Separated Child Foundation.