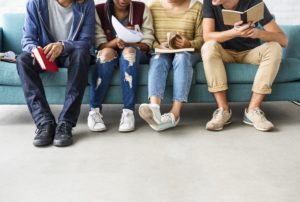 Club Class was launched in July 2010, as a cross between a club and a class: a weekly educational, social and cultural programme for up to 30 separated young people aged 14-18 that includes refreshments and supper, and pays the participants' travel expenses.
Throughout the year, Club Class (which is usually hosted at the Refugee Council) offers a range of activities to teach arts and life skills including cooking, to help young refugees improve their English and to provide homework support. Over holiday periods, there are excursions that focus on getting to know and enjoy London; these have included a river cruise, boating and playing cricket in Regents Park, a trip to London Zoo and another to Madame Tussaud's.
Between March 2020 and April 2022 we held our Club Class sessions online to ensure that young people could continue to build relationships and talk about the issues that are affecting them, in a safe virtual environment.  We were also able to provide laptops to five young people to enable them to continue with Club Class, as well as to help them keep up with school work.
For more information and to join Club Class – or recommend a young person for it – please contact us at: contact@separatedchild.org
Our funding of a youth activities worker at the Refugee Council makes a range of life-enriching events, programmes, short trips and residential experiences possible.
We're working towards extending this kind of provision to other places where there would be courses in language, sport, life skills and citizenship, as well as informal advice and counselling, and invaluable opportunities for company, meetings and friendship.