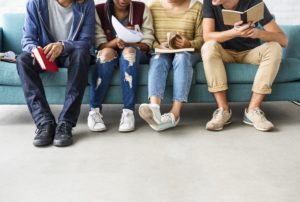 Our Club Class was launched in July 2010, as a combination of a club and a class: a weekly educational, social and cultural programme for separated young people aged 14-21.
Since then, Club Class has expanded and currently runs in Croydon and Bournemouth, – with new locations likely in 2023. Working in partnership with the Refugee Council in Croydon and International Care Network (ICN) in Bournemouth, Club Class is held throughout the year.
The weekly, free sessions offer a range of interactive and fun educational activities to help separated children and young people practice their English and settle into life in the UK, discussing topics including UK culture and traditions, building relationships, mental health, regulating emotions, internet safety and social media, anti-bullying and healthy eating, whilst also offering a safe environment for socialising. Each Club Class ends with a meal eaten together as a group.
Club Class is facilitated by experienced youth workers and the young people themselves are invited to take part in youth participation sessions, empowering them to inform and shape the topics and activities of future Club Class sessions.
Over holiday periods, when services for separated children and youth people are often suspended, excursions and extra activities are arranged with a focus on getting to know and enjoy the UK. These have included a river cruise, boating and playing cricket in Regents Park, a trip to London Zoo and another to Madame Tussaud's, a social evening to celebrate Black History month at Bournemouth arts café and a seasonal celebration in December in partnership with Bournemouth Community Kitchen. Future planned trips include a visit to an urban farm and a cooking class.
For more information and to join Club Class – or to recommend a young person for it – please contact us